Introduction
Chapter One: It's Getting Cloudy: Brain Hemorrhage.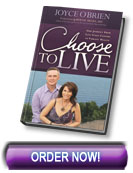 Chapter Two: It's Raining: Spina Bifida.
Chapter Three: It's Pouring: Stage 2.
Chapter Four: The Craziologist
Chapter Five: Hit by a Truck—No, Make That Three Trucks.
Chapter Six: The Old Man Is Snoring: Chemo.
Chapter Seven: Hair, Hair . . . Anywhere?.
Chapter Eight: It's a Thunderstorm: Kevin's Cancer
Chapter Nine: Malignant Melanoma.
Chapter Ten: The Typhoon: Stage 4.
Chapter Eleven: The Rain Is Letting Up: Defining Moments.
Chapter Twelve: Yes and No.
Chapter Thirteen: The Clouds Are Starting to Break Up: Switzerland.
Chapter Fourteen: The Loch Ness Monster
Chapter Fifteen: My Mom: My Rock.
Chapter Sixteen: A Ray of Sunshine Peeks through the Clouds: My Second Trip to Switzerland.
Chapter Seventeen: Where the Fun Picks Up: The Amazing Voyage Out of Cancer
Chapter Eighteen: The Sun Is Shining: Miracles Big and Small
Epilogue: Whatever the Mind Can Conceive and Believe, It Can Achieve